Services and Support
Telecommunications &
Information Technology

Unified Communications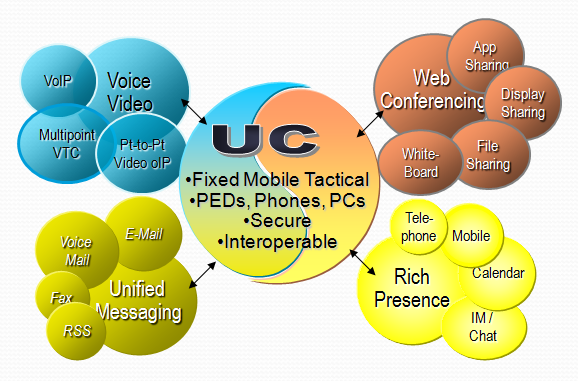 Unified Communications is becoming ubiquitous. With unified communications, multiple modes of business communications are seamlessly integrated. Unified communications is not a single product but a collection elements that includes:
Call control and multimodal communications - routing calls effeciently and effectively to the proper recipient
Presence - Real-time recipient availability indicator
Instant messaging - Live chats
Unified messaging - Simultaneous communication over different media such as e-mail, SMS, Fax, voicemail, and video messaging
Conferenceing - Audio, web and video
Business process integration (BPI) - the reduction and attempted elimination of "human latency"
Department of Defense and Unified Communications
The integration of voice, video and data services delivered ubiquitously across a secure and highly available network, independent of technology, to provide increased mission effectiveness to the warfighter and business communities